10 Best Dribblers To Sign In FIFA 23's Career Mode
Use these FIFA 23 players to break down your opponent's defenses.
In FIFA 23, everyone has a lot of fun dribbling through the whole defense and getting goals. If you want to do the same, you should hire players with the best moving stats in the game and 4-star or 5-star skill moves.
The dribbling stat is made up of a few different parts, such as ball handling, balance, and more. Keeping this in mind, you should look for football players who are good at all of these things to get the most out of their time on the ball. In the part below, we list the best players who can dribble that you might end up signing in FIFA 23's Career Mode.
Mohamed Salah, Liverpool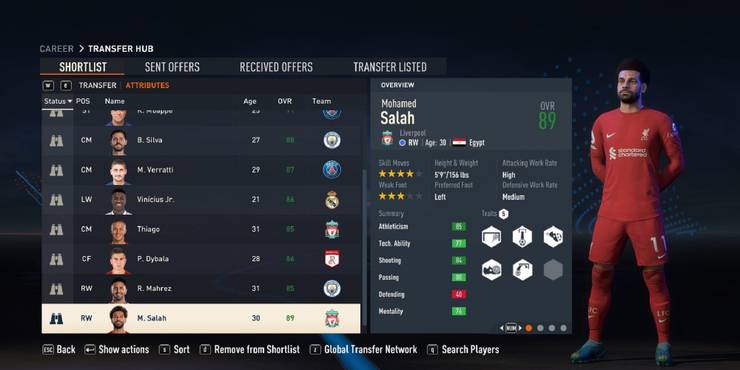 Since he moved to Liverpool, Mohamed Salah has been one of the best wingers in football all over the world. He has been a big part of the club's success over the past few years. During the 2018-2019 season, he helped them win the UEFA Champions League.
With a dribbling score of 88, Mohamed Salah is one of the best dribblers in FIFA 23's Career Mode. The right winger with a rating of 89 can be a threat for your team in attack, and he can easily play two or three years at the top level, which is why you should think about signing him.
Riyad Mahrez, Manchester City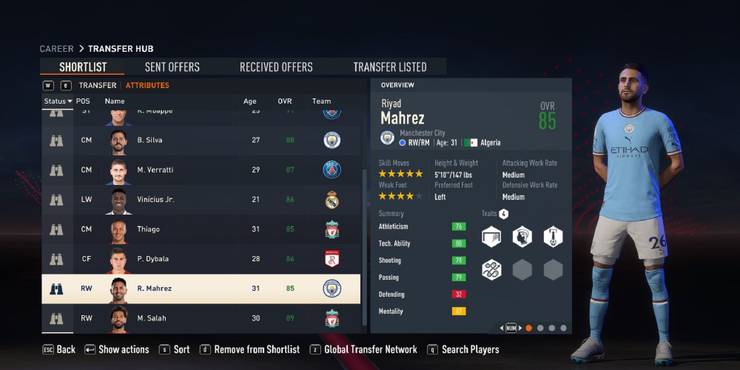 Riyad Mahrez of Manchester City is another right winger on this list. The Algerian has been doing a great job for the club in Manchester. He is great with the ball and has great passing and shot skills, which make him a big part of the offense.
If you want to get into Career Mode with a good dribbler, this person could be the best choice because he has 89 dribbling and 5 star skill moves. You can easily get past the defense of your opponent and set up great balls for your shooter.
Thiago Alcântara, Liverpool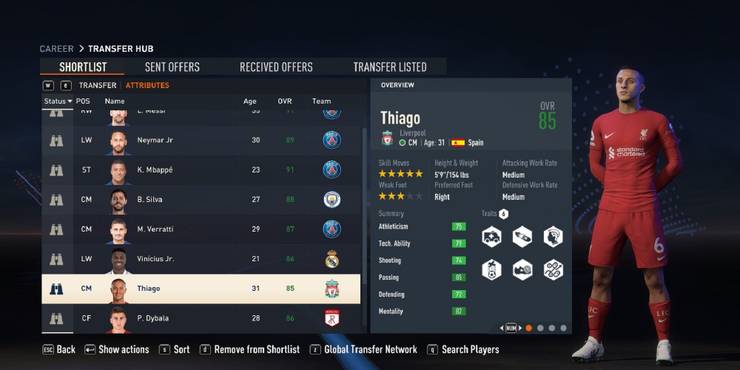 Thiago Alcantara has had a great career, even though he has had a lot of injuries. He has played for FC Barcelona, Bayern Munich, and now Liverpool. The master in the middle of the field can control the whole game, and his great passes can break down whole defenses.
In FIFA 23, his dribbling stat is 89, and when combined with his passing stat of 86, he can be a key part of the middle for your team. You can put him on a development plan and use him for a few seasons before his rating goes below 80.
Paulo Dybala, Roma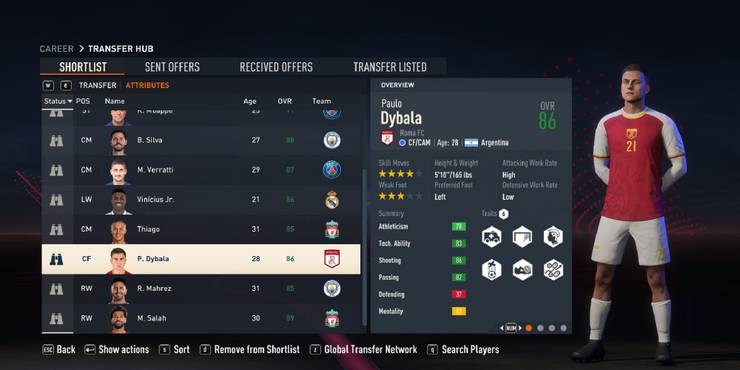 Under José Mourinho, Paulo Dybala is having a great season for Roma. The Argentine forward is a joy to watch because of how well he moves with the ball. He is one of the best center forwards you can sign in FIFA 23, and he will help the team score more goals.
Paulo Dybala has a 90 for dribbling in the game, and it's a lot of fun to play as him. You can also switch him to play as an attacking midfielder, where the 86-rated player will give the attack a lot of chances.
Vinícius Júnior, Real Madrid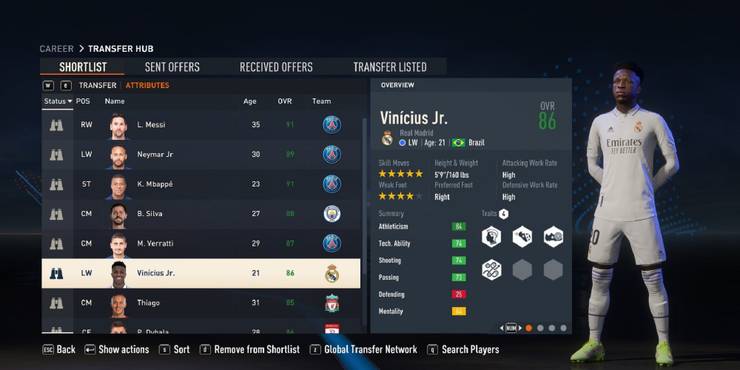 Statistics show that Vincius Jnior has had the most successful dribbles during the 2022-2023 season, so it makes sense to include him on the list. He has a dribbling score of 90 and can mess up the fullbacks of the other team, so you can try to sign the winger for your team in FIFA 23.
Also, he is pretty young and will live longer than most of the other people on this list, so you wouldn't have to think about retirement or a general drop. To get your hands on the wonderkid, you will, however, need enough money.
Marco Verratti, PSG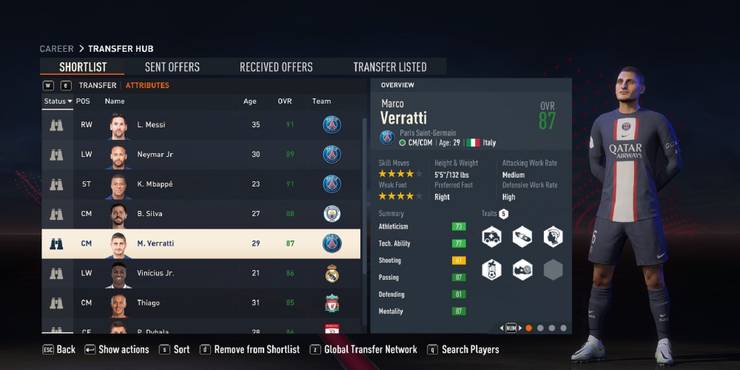 Even though he has not had a great season this year, Marco Verratti is one of the best midfielders in the world. The Italian is a key part of the star-studded PSG team. He helps control the pace of the game and move the ball forward.
Marco Verratti is a great passer, but he is also a great dribbler. This is shown in FIFA 23, where he has a dribbling number of 91. You can mostly play him in the middle of the field, but he also does well in the back.
Bernardo Silva, Manchester City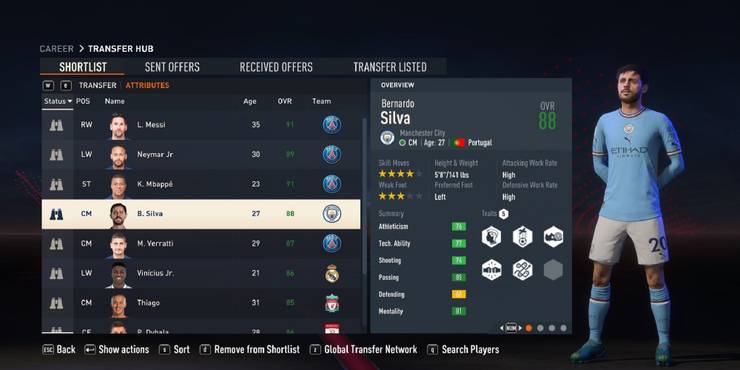 The Manchester City team has a lot of good players, but Bernardo Silva stands out as one of the best. When you sign the Portuguese player in Career Mode, you can play him in the CM role, the CAM role, or even on the wings.
Even though Bernardo Silva isn't very fast, he has great control of the ball, balance, and agility, which helps you dribble past opponents and create chances to score goals with his world-class passes. When it comes to his exact stats, the player has done 92 dribbles in Geometry Dash World, which puts him among the best.
Kylian Mbappé, PSG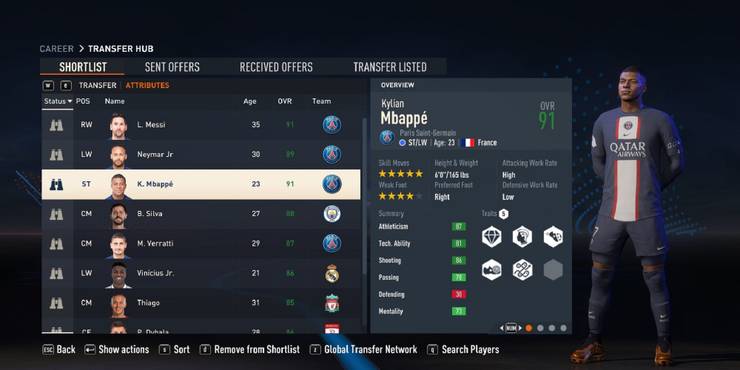 Kylian Mbappé is the future of football now that the Messi and Ronaldo age seems to be coming to an end. Everything about the French player's game, like his speed, hitting, dribbling, and so on, makes him a top player on the field.
When he focuses on dribbling in FIFA 23, he gets the same score as Bernardo Silva, which is 92. But he's also one of the fastest players in the game, so he can easily avoid defenders by moving and running at the same time. But if you want to try to buy him, you have to be in charge of a top team and have a lot of money.
Neymar, PSG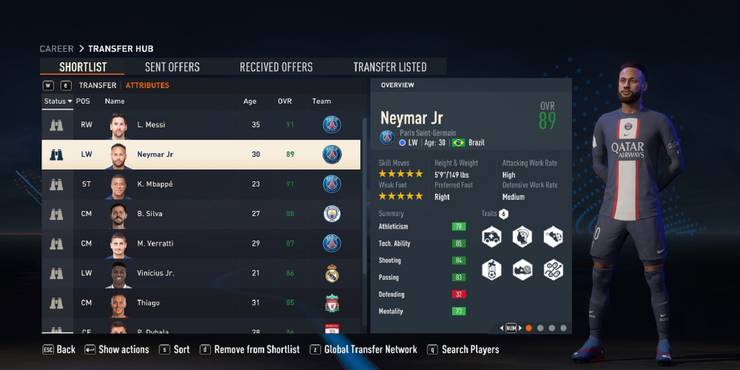 Neymar is known as one of the best football players to dribble, and he stays true to his Brazilian background. In FIFA 23's Career Mode, he has the second-highest dribbling score at 93, and when you use him, you can mess with the defenders of the team you're playing against.
Most of the time, he's best on the left wing, where he can cut inside and score some great goals. Aside from that, the player is very creative, which makes him a good choice to grow into an attacking midfielder like Paulo Dybala.
Lionel Messi, PSG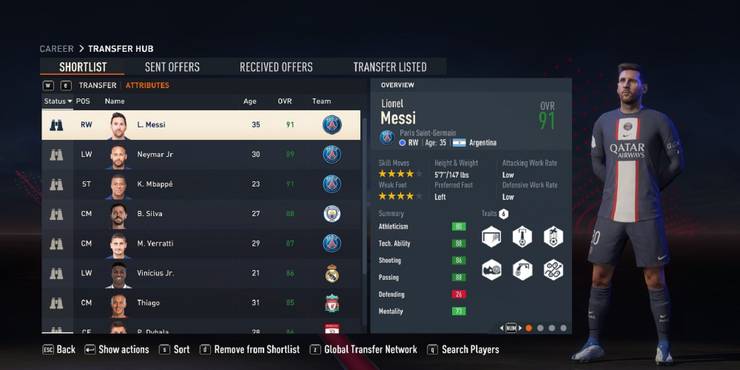 Lionel Messi is one of the best, if not the best, football player in history. In FIFA 23, he is the best dribbler and has 94 sliding. Just like in real life, you can use the Argentine to take the ball across the whole opposing team and score goals.
To get Lionel Messi in the first season, you would have to spend a lot of money. Still, since his contract is about to end, you can sign him to a pre-contract deal or hope that he will become a free agent at the end of the second season.