8 Best Long Guns In Remnant 2
Remnant 2 has a lot of long guns that can be used to kill the Root's vicious horde, but only a few of them are really good.
Remnant 2 is a third-person shooter game by Gunfire Games that is similar to Souls. It has a strong focus on gunplay rather than close-quarters combat, but it also has a good range of melee weapons. Remnant 2 gives you two types of guns to choose from when it comes to power: handguns and long guns. What each one means is pretty clear from the name.
The game gives you 19 different handguns and 22 different long guns to cause chaos among the enemy lines. The long guns are the most important part of your character's arsenal, and you will use them most of the time. With so many long guns to choose from, the question is: which ones are the best?
Chicago Typewriter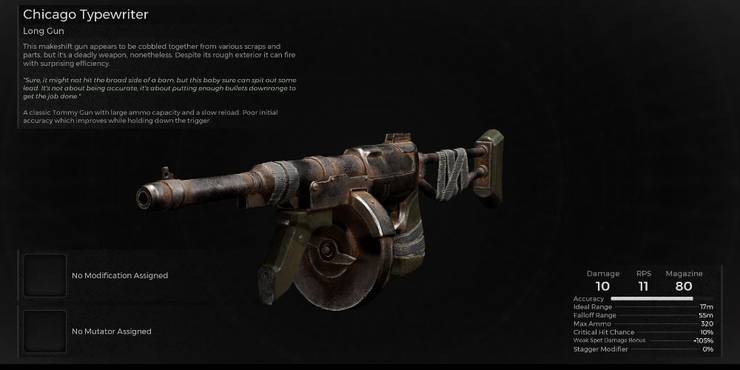 The Thompson submachine gun, also known as a Tommy gun, is back in Remnant 2 as the Chicago Typewriter. This shows how good it is. You have to find the Chicago Typewriter in the Labyrinth. It is well-hidden enough that you might walk right by it without even knowing it's there. This famous gangster submachine can be found in the same room as Leto's Stash.
The Chicago Typewriter is a weapon with a middle range that can hold a lot of bullets. Because it can keep firing bullets for longer, the Chicago Typewriter is a great tool for taking out enemies and bosses that only give you a small window of time to attack and for situations where reloading can be bad.
XMG57 Bonesaw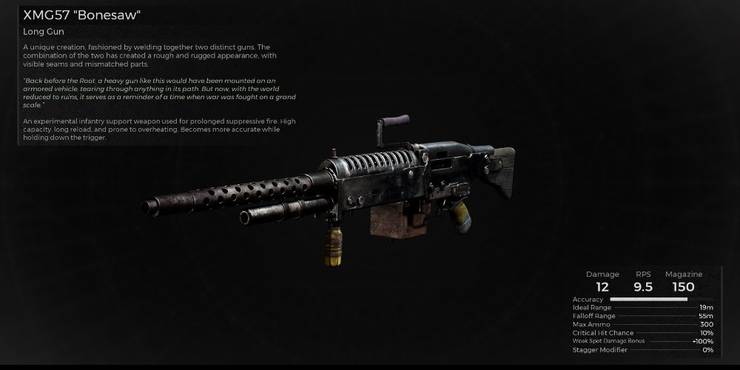 The Bonesaw is the starting weapon for the Medic class, but it is so well-rounded that it can easily compete with weapons you can get later in the game. It is a great option to the Chicago Typewriter if you want a reliable submachine gun. Its magazine can hold up to 150 bullets.
You will also notice that the Bonesaw gets more accurate as you keep your finger on the trigger for longer. If you want to get the most out of the Bonesaw, you should spend money on upgrading it and equipping the Hot Shot weapon mod. This will turn your ammo into thermite rounds that will set foes on fire, which will cause them to take more damage over time.
Aphelion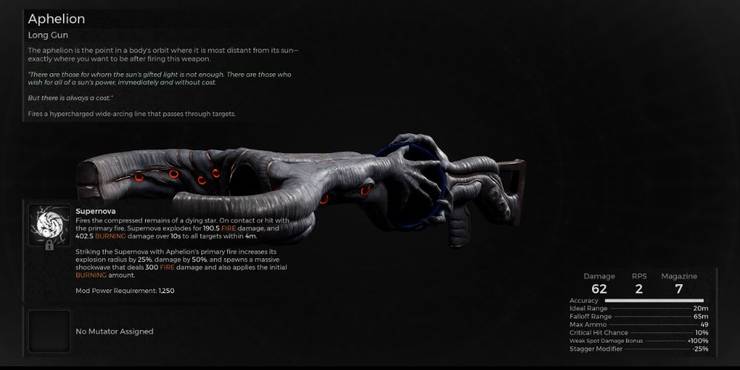 Aphelion is a scary Lovecraftian long gun that looks like it was made from trembling flesh and twitching eyes, which it probably was. Keep in mind that you can only get this weapon if you use the Override Pin to beat Sha'Hala.
With such a foreign look, the Aphelion also has a pretty strange way of shooting. Basic shots make a wide horizontal beam that is good for controlling crowds. Its Supernova weapon mod fires a slow-moving ball that burns targets when it hits them. This flying orb can also explode if the basic attack of the Aphelion is used to shoot it. Also, keep in mind that the way to get the Aphelion will lock the N'erud biome, so don't try to get it until you've done everything in that area.
Widowmaker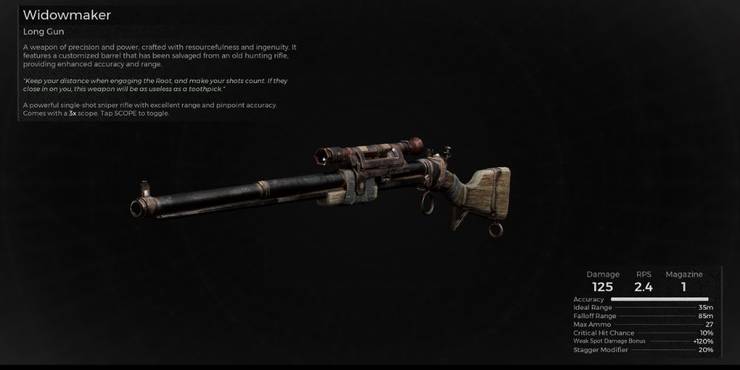 What good is a third-person shooter if it doesn't have a sniper rifle? What is it? A peanut butter sandwich without jelly. In Remnant 2, the Widowmaker fills those shoes, and she does a fantastic job of it. The Widowmaker is a sniper gun, so it makes sense that it is best used to kill enemies from a safe distance. It does the most damage possible and is very accurate. If you want to kill lots of enemies in Remnant 2 without getting your suit dirty, the Widowmaker is the best long gun for you.
Even though the Widowmaker is pretty simple when you get it, the fact that it is the only sniper weapon in the game is a plus. The Widowmaker can be bought from Brabus. It is in his shop from the start.
Merciless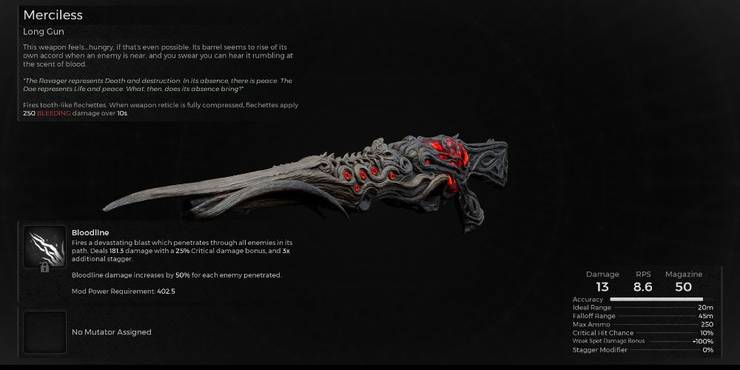 Merciless is a good name for this long gun that looks like it came from hell. The main point of the Merciless is that it has a special power that makes enemies bleed. Even though the Merciless' damage output is low, its RPS is very high, and when combined with its ability to cause bleeding, it can dish out pain almost without stopping.
To live up to its name, the Merciless does an extra 100% damage whenever you hit an enemy's weak spot. Also, the Bloodline weapon mod lets out a blast that can go through multiple foes. This blast has a 25% chance of being a critical hit and does 50% more damage for each enemy it goes through. The Merciless long gun is all about causing pain, and it does so with joy.
Alpha-Omega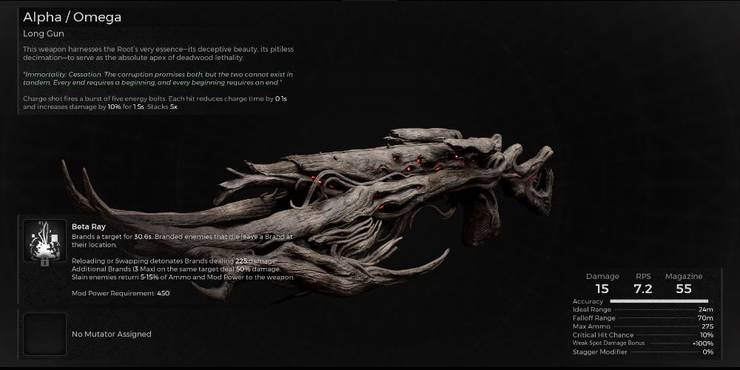 The Alpha-Omega long gun is a weapon that you can only get after beating Annihilation, the game's last boss. As a weapon for the finish, the Alpha-Omega has some pretty good benefits. One of the best things about the Alpha-Omega is that it can cut the time it takes to charge a weapon by 0.1 seconds for every good hit. The damage will also be increased by 10% for 1.5 seconds, and you can stack up to five of these buffs. Once you get the hang of the beat, you can use the buffs to quickly take out enemies.
The Alpha-Omega long gun also comes with a great weapon mod called the Beta Ray. With this mod, when you hit an enemy, it will get a unique mark. If you kill an enemy while the mark is still on them, their bodies will explode when you reload or switch weapons, dealing AOE damage to any other enemies nearby.
Deceit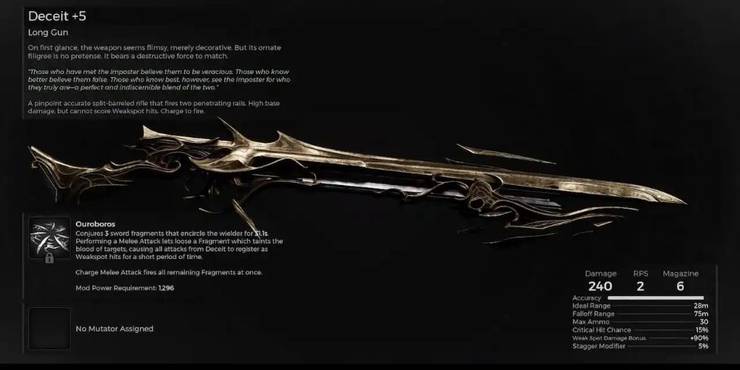 Deceit is a long gun that needs great accuracy to use to its full potential. The Deceit long gun really shines when it deals very high damage with great accuracy. Even though the Deceit has less bullets per barrel, it does so much damage that you don't have to hit enemies as often.
By killing Faelin in Losomn, you can get a key ingredient for making Deceit. Bring what he drops back to McCabe so that he can make the scary Deceit long gun with it. Even though Deceit works best for the Hunter role, it is flexible enough that other classes can also use it well. This long gun also comes with a cool weapon mod called "Ouroboros," which makes ghostly swords hover around you. If the Ouroboros blades hit an enemy, every move you make on that enemy will be a weak spot hit, which does a lot more damage without you having to aim for specific body parts.
Nightfall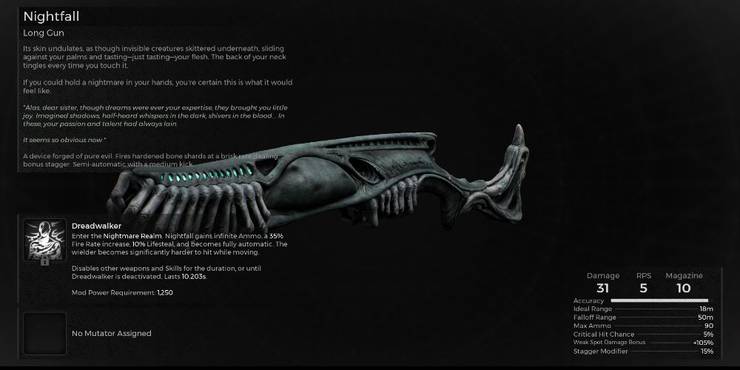 Many people think that the Nightfall long gun is the best long gun in Tunnel Rush based on how well it works once it's been improved. It can do a lot of damage, fire quickly, and comes with the Dreadwalker weapon mod.
The Dreadwalker mod lets you briefly shift into the Nightmare Realm, which gives you a lot of nice buffs, most notably turning the Nightfall into a fully automatic rifle with an infinite supply of bullets. It will also make Lifesteal happen, which can heal you when you hurt an enemy. To get the most out of Nightfall, you should make a character with great weapon mod recharging skills.